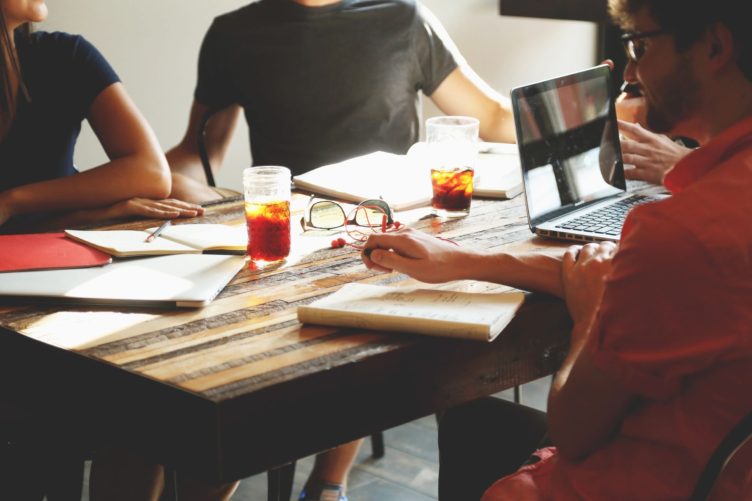 To buy, to rent, or to co-work?—the one dilemma that haunts all founders at some point. With this comes a volley of other questions and speculations. To make your decision quicker and your sleep sounder, we have created a list of pros and cons for each of these options along with the requirements they are best suited to. Take a look!
The days when work was confined to the four walls of an office are history. Give us a laptop and an Internet connection, and we can work from anywhere in the world.
The rise in self-employment and micro-businesses has made co-working a popular option.
Pros
Fosters a positive and productive working environment surrounded by like-minded people
Presents an abundance of networking opportunities
Helps avoid traditional startup costs, such as office furniture, Internet, and telephones
Provides all the perks of a big office—well-equipped conference rooms, chic cafeterias, recreational spaces, and more.
Offers optimum flexibility: purchase an hourly, monthly, or yearly subscription
Cons
Maintaining focus can be challenging for those who struggle to concentrate
Privacy can be an issue owing to the open space
You should be looking at a co-working space if:
You have a small team
You have specific, short-term goals
You need a well-furnished workspace that won't cost a lot
You don't have the budget for a lease and the accompanying expenses
Growth is your priority
You are disciplined
Office Renting
When your business has outgrown your living room or co-working space, and you've rowed out the treacherous waters of establishing your business, it's time to think of something steadier—your own rented office!
Pros
Offers the option to pick an office in a preferable location
Provides space for current as well as future requirements
Facilitates refundable deposit and turns cash flow into working capital
Annual flexibility enables you to move in and out conveniently
Cons:
High upfront cost and long lease lengths
Variable costs like higher costs when your lease expires and annual rent increase
Renting is right when:
Your business is steadily gaining impetus and your workforce is expanding
You want to indicate financial health
Your business leans heavily on location. E.g. retail or restaurants
You have investment backing
Property Buying
This is a onetime investment option best suited to businesses that have signed non-disclosure agreements with clients. Buying an office displays confidence in the business and says, "I have a long-term plan and I intend to stick around."
Pros
Offers more privacy
Offers more security—enables installation of physical security as required by the business. E.g. video surveillance and data security firewall.
Gives your business clear, fixed costs
Provides tax deductions by way of property taxes, debt interest, etc.
Cons
Heavy on the pocket owing to large initial down payment, property improvement, and maintenance.
Incurs various "hidden costs," including service charges, and utility bills.
There's a lack of flexibility for accommodating unexpected needs—owned office space may become inadequate for a growing business
Think of buying only when:
Confidentiality and security of data takes priority over conserving cash
Your business is thriving and you're earning enough
Your priority is projecting a positive image for your stakeholders
You need to have control of your workspace in terms of what it looks like—structure, signage, storage facilities, etc.
Choosing where to work isn't all about the lifestyle; it must add value to your business, whether it's monetary or otherwise.
Experience our coworking space in
We provide